Kaka'ako Area Condominium Projects
The greater Kaka'ako and Ala Moana area is one of Honolulu's fastest growing urban residential destinations. With over 10 recent projects completed and additional projects on the way, there has never been a better opportunity to seize Hawaii's sought-after "Work, Play, Live" lifestyle in ultra-convenient Kaka'ako.
---
Waiea
1118 Ala Moana Boulevard, Honolulu
Developer: Howard Hughes
Waiea is Ward Village's flagship luxury property situated directly across from Ala Moana Beach Park and Kewalo Boat Harbor. Waiea, meaning "Water of Life", features an elegant glass exterior resembling the natural flow of water.  Large living spaces offer a direct alternative to single-family home living, with resort-style amenities ready for your leisure.  This truly world-class destination put Honolulu on the map for ultra luxury high-rise living.
---
Anaha
1108 Auahi Street, Honolulu
Developer: Howard Hughes
Situated in the heart of Ward Village, Architectural Digest's top master-planned community, sits Anaha.  Modern luxury meets island living with contemporary interiors drawing inspirations from Hawaii's natural beauty.  Just one block from Ala Moana Beach Park, this luxury desination sits well positioned to enjoy all-things Kaka'ako with dining, shopping, and entertainment options just blocks away.
---
Ae'o
1001 Queen Street, Honolulu
Developer: Howard Hughes
Developed by Howard Hughes as a mid-priced luxury condominium development with an emphasis on an ultra-convenient lifestyle, Ae'o was developed adjacent to Honolulu's flagship two-story Whole Foods Market. Sharing virtually the same location as Anaha, Ae'o is just one block from Ala Moana Beach Park and a few minutes from Ala Moana Shopping Center, local boutique shops, casual and fine dining, and more.
---
Park Lane
1388 Ala Moana Blvd, Honolulu
Developer: The Macnaughton Group, Kobayashi Group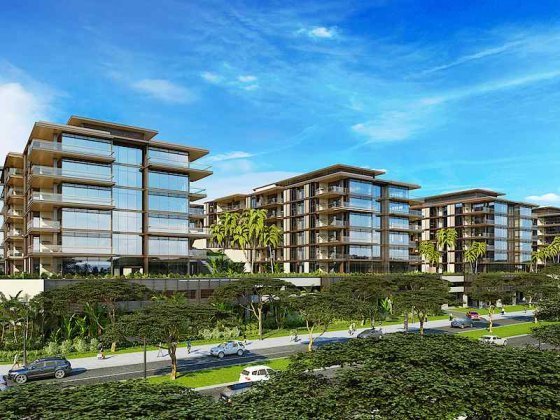 A collection of gracious, elegantly appointed estate homes in the heart of Honolulu, Park Lane is luxury, redefined.
Steps from world-class beaches and minutes away from one of the Asia-Pacific Region's most cosmopolitan city centers, Park Lane offers the best of all worlds, including exclusive access via private elevator to Ala Moana Center and its unsurpassed collection of luxury retailers.
In an unprecedented move, a team of renowned architects and interior designers have taken the concept of a high rise and turned it on its side. The result is more than seven expansive acres of private estate homes situated in lush, tropical environs extending from the ocean (makai) to the mountains (mauka).
Stroll down a tropical, tree-lined path lined with graceful reflective ponds to a fully-amenitized spa. Enjoy a morning yoga session or a swim in the azure-blue, cabana-lined pool. Go for a workout in the private gym or let our Residential Services team prepare the perfect beach day, just for you.
Featuring elegantly designed spacious floorplans and generous lanais, Park Lane residences represent the pinnacle of luxury living. The development and design teams have searched the world for every fixture, finish and surface, incorporating only the best of each into every home.
---
ONE Ala Moana
1555 Kapiolani Blvd, Honolulu
Developer: The Macnaughton Group, Kobayashi Group
One Ala Moana is being developed atop the parking garage of Ala Moana Center's Mauka wing. This ultra-luxury residence will feature amenities unlike anything in Honolulu including wine tasting, a chef's kitchen, private dining room, movie theater, golf simulation, putting green, yoga studio, private shopping assistance and more.
"Ala Moana Center. A global destination that draws an international clientele. To the east is Waikiki, with its tropical beauty and vitality. And at its core, the vibrancy of an international shopping mecca, heralded as the largest open-air shopping center and populated by the worldís greatest brands.
Taking inspiration from the beauty of its location, ONE Ala Moana highlights its surrounding views with magnificent floor-to-ceiling windows. The glass, carefully selected to reflect the glorious blue sky, gorgeous ocean and lush mountains, is a modern reflection of the splendor of the islands."
Source: Howard Hughes
► ONE Ala Moana Listings for Sale
---
Waihonua
1189 Waimanu Street
Developer: A&B Properties, Inc.
Waihonua, a sold-out luxury condominium situated in between Hawaiki Tower and Ko'olani on Waimanu Street, is slated for completion end of 2014. Setting a new standard of luxury for condominiums in this area, all units include wood flooring, floor to ceiling windows, gourmet kitchens and more.
"Sophisticated, but understated. Intimate, but interesting. Down-to-earth, yet downright gorgeous.  That's Waihonua. One, two and three bedroom residences that have it all.  Creative use of space makes every room feel effortlessly comfortable, while floor-to-ceiling windows invite the ocean and mountains in.  Your gourmet kitchen and granite countertops seamlessly incorporate Bosch European appliances, inspiring the chef in you on a daily basis.  At the same time, equisite wood floors and designer details create the insatialbe desire to entertain... or simply enjoy all to yourself"
Source: A&B Properties, Inc.
---
Symphony Honolulu
888 Kapiolani Blvd
Developer: Oliver McMillan
Originally named after the Honolulu Symphony Orchestra, this new high-rise condominium is being developed across from Neil Blasidell Center. Designed to capture "the city's artistic nature, cosmopolitan energy and warm aloha spirit", Symphony is centrally located with easy access to Downtown Honolulu, Ala Moana and more.
"Symphony Honolulu is the new residential condominium rising from the heart of Honolulu is Kapiolani corridor. Itís a masterwork of contemporary design amidst Kakaëakoís abundant, growing culture of art, theatre, concerts, shopping, dining, and nightlife. A residential haven of panoramic views and finely orchestrated amenities, where every element comes together in perfect harmony"